So, I hear you're looking for a speaker.
Here's my oh-so-fancy bio:
Hailing from Ottawa, Michaela Alexis is currently one of North America's most in-demand speakers on topics related to personal branding on social media, particularly LinkedIn.
Her journey started in March 2016 when an article she wrote about landing her dream job went viral on LinkedIn. Since then, she has replicated that success, with dozens of articles receiving millions of reads, featured on the likes of CNBC, BuzzFeed, Success.com, Inc., and more.
Over the past decade, Michaela has managed the online presence of more than 100 high-profile brands, and has garnered millions of views and over 150K followers on her personal brand.
Michaela also just wrapped up co-authored a video marketing book, Think Video, which is available on Amazon, and appeared on season one of Amazon Prime series "The Social Movement", which comes out in 2020.
Speaking at conferences, retreats, or corporate training events:
When I was eight years old, despite being super shy, I would rake in every single medal and award for public speaking. The stage has always been my Narnia, I step into a different world. Couple that with my passion for personal branding and helping others benefit from the LinkedIn platform as much as I have, and it's speaking magic for your next event.
I deliver powerful and engaging talks to groups as small as ten, and have spoken in front of over 2000 entrepreneurs at Toronto's Sony Centre. The power of personal branding on LinkedIn is universally applicable, and I've been fortunate to speak to groups across industries, from homebuilders, dentists, and insurance associations, to gutsy entrepreneurs and creative business women.
Let's jump on a quick Zoom call.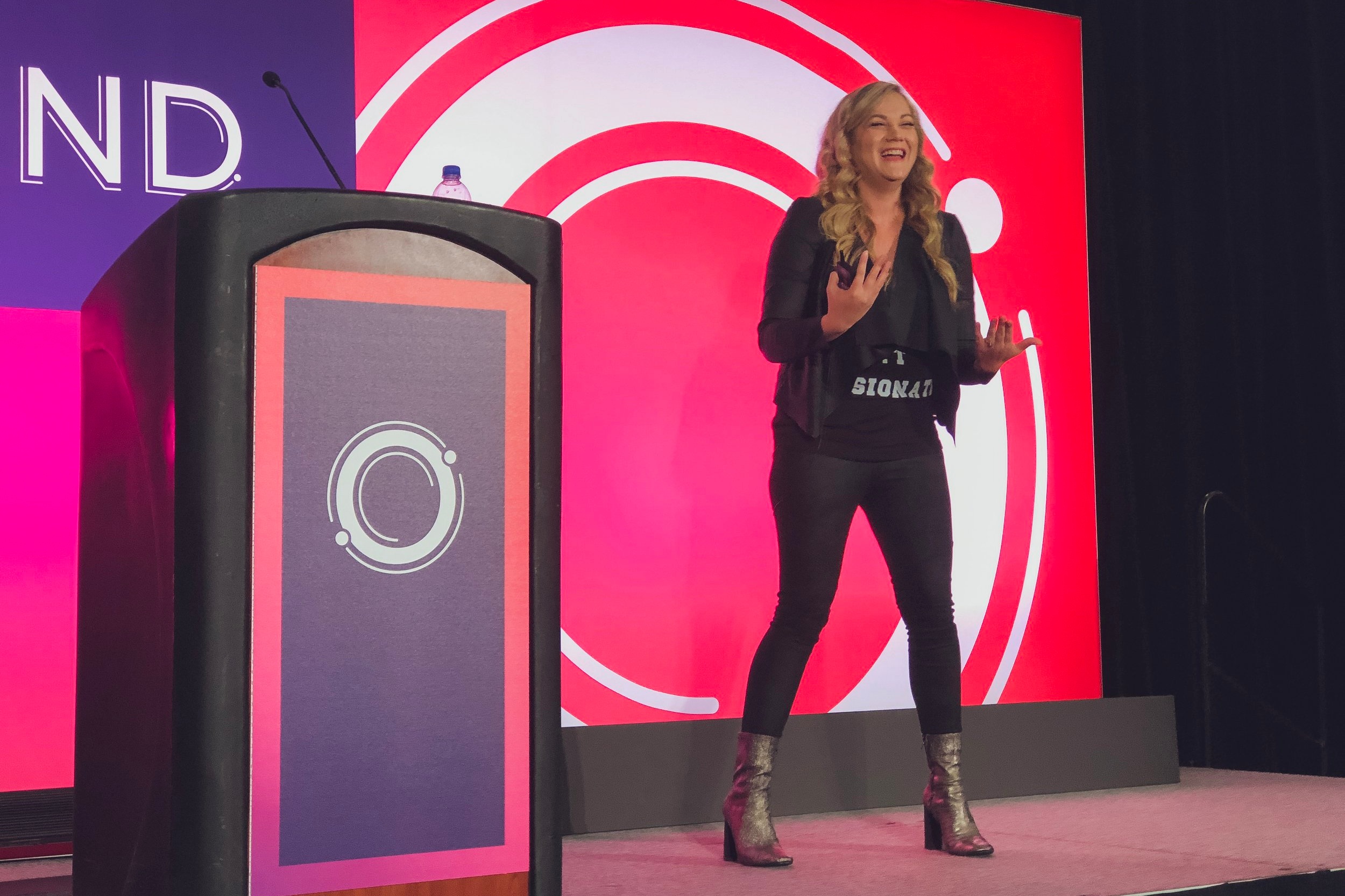 How to Build a Mega Personal Brand on LinkedIn on a Mini Budget
(video of this keynote is available here: https://youtu.be/xmGaOqTd_xg)
Key Takeaways:
1. Learn what kind of content resonates with the LinkedIn community
2. Discover how the LinkedIn algorithm works and how you can work with it
3. Understand how to find your unique voice and make your Linked content more digestible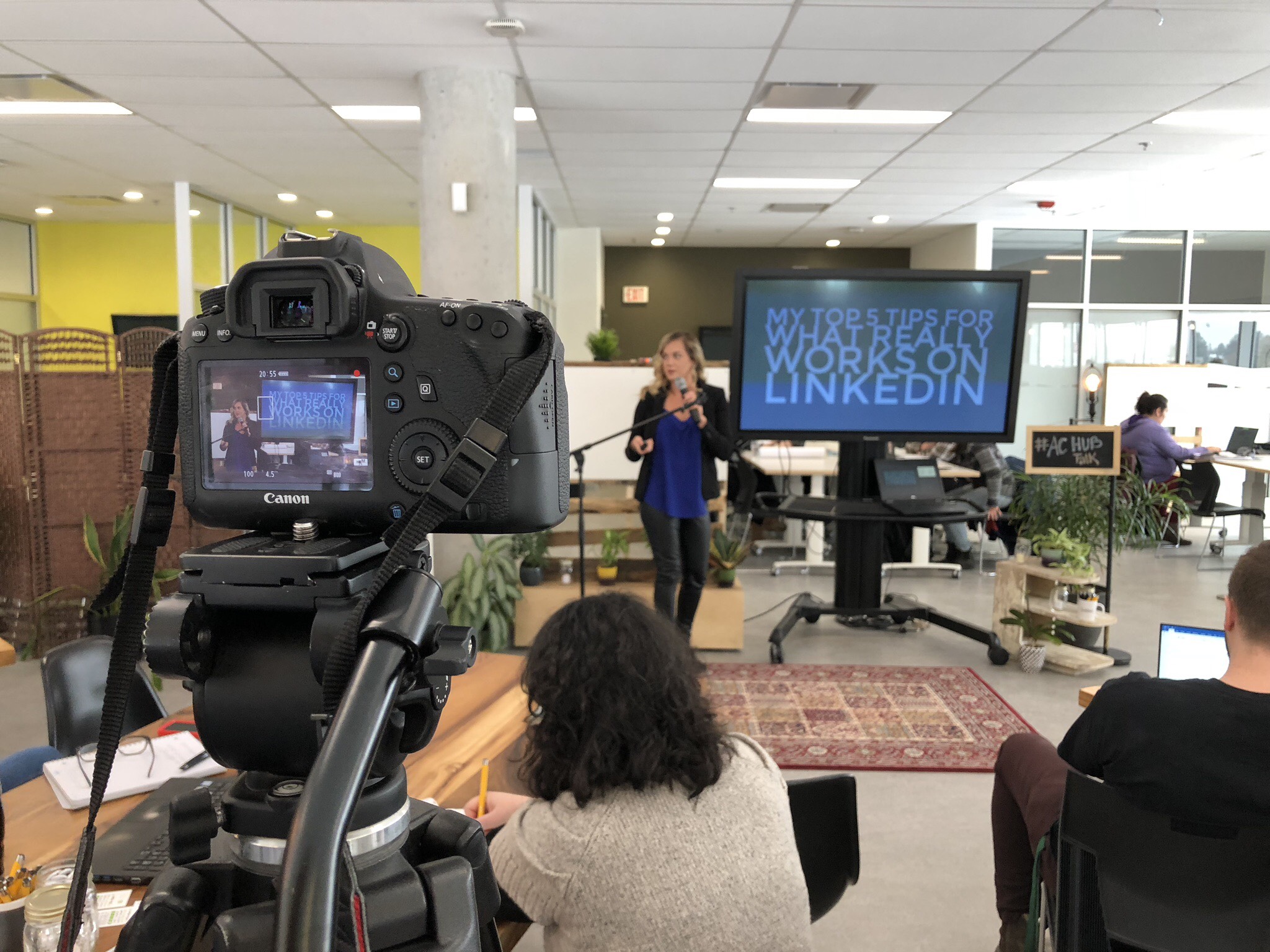 How to Stand out in the Digital World
(presentation sample here: https://youtu.be/fhF6nKZBm_4)
Key Takeaways:
1. Learn how building a personal brand can help you win more business and land new opportunities
2. Discover how to effectively build a brand on the LinkedIn platform
3. Understand the rules of engagement on LinkedIn and what NOT to do
How to Generate More Referrals With Social Media
Key Takeaways:
1. How to network like a LinkedIn All-Star and build your LinkedIn personal brand strategy
2. The content that generates the highest engagement on Instagram and why you should be using DMs in your business development efforts
3. How to search for the right people to connect with on Twitter
4. Facebook groups and why they matter for career success
5. Learn the difference between content that works on Facebook vs. Instagram vs. LinkedIn
LinkedIn Video: What SMBs Need to Know
Key Takeaways:
1. Why LinkedIn video is a critical piece to your social media marketing strategy
2. How to get started with LinkedIn video
3. What works and what doesn't work when it comes to LinkedIn video
4. How to turn views into real leads for your business
How to use LinkedIn Pages to Generate Leads
Key Takeaways:
1. What LinkedIn Pages are and why they matter for your business
2. How to build a winning strategy that builds a community around your product/services
3. Content that converts on LinkedIn Pages and why
4. The newest LinkedIn Pages features that small businesses need to know about

I'm also happy to also customize content to perfectly fit with your audience!
Watch me on stage delivering my keynote "How to build a mega personal brand on a mini budget" at the Sony Centre in front of 2000 attendees!
WHAT OTHERS ARE SAYING
Scroll through my testimonials from clients and audience members
CHECK OUT MY YOUTUBE CHANNEL
Watch me in action with my free linkedin training videos
MY SPEAKING CLIENTS INCLUDE
Interested in booking me?
i can't wait to learn more about you and your event goals!
fill out the form below and i'll get back to you within 2 business days.